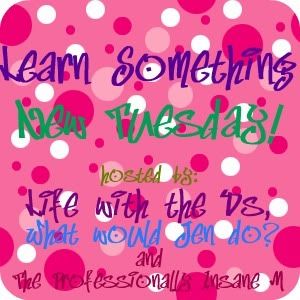 It's time for
LEARN SOMETHING NEW TUESDAY!!
**This blog hop requires you to participate in answering the questions and posting them on your blog. If you do not answer the questions, but link up you will be deleted** Thanks!!
What you do with this is you take the 6 questions from the post on Tuesday (the questions will be different every Tuesday), post them and answer them on your blog, then come back to link up your post! Then you can go check out the other blogs and LEARN SOMETHING NEW about them!
This Weeks Questions
1. What is your favorite breakfast food?
French Toast
2. Do you do any fun crafts?
I play at crafts, but am not typically a crafty, creative person.
3. Do you care if the toilet paper goes over or under?
No, not really, as long as it is in the holder.
4. If you have to name your daughter after a state, which one would it be?
Easy, Georgia.
5. Do you have a touch, full out keyboard, or flip phone?
My phone is a touch screen, but also slides open to a full out QWERTY keyboard.
6. If you were someone else, would you be friends with yourself
Yes, I like myself.